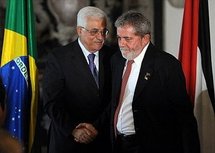 "The borders of the future Palestinian state should be preserved, and freedom of movement needs to be guaranteed in the occupied territories."
For his part, Abbas blasted Israel's decision to pursue settlement activity as an "obstacle on the road to peace" in the Middle East.
He noted that under the US-backed 2003 roadmap, a peace plan that calls for a Palestinian state living side by side with Israel, the Jewish state is required to freeze all settlement construction.
The roadmap also demands that Israel dismantle all settlement outposts, or dwellings the state itself considers illegal.
"Therefore if the Israeli government continues to build, notably in occupied east Jerusalem, that will mean it is erecting obstacles along the road to peace," Abbas said.
The Palestinian leader called on Lula, who met last week with visiting Israeli President Shimon Peres, to play a greater role in international efforts to reach an agreement on Middle East peace.
"We appreciate the efforts of Brazil," Abbas told reporters in the northeastern city of Salvador.
"With respect to you, President Lula, we would like you to have a role, and you're ready for it," he said, adding that "the world can benefit from" Brazil's influence in the region.
The two leaders discussed the long-stalled Middle East peace process and a way forward for the Palestinian territories.
"The peace process will benefit from the contribution of other countries other than those traditionally involved" in negotiation efforts, Lula said.
In recent weeks, Brazil has hinted at ambitions to play a role in Middle East affairs as the country seeks to boost its international profile to match its growing economic heft.
After Peres and Abbas, Lula is expected to meet Monday with Iranian President Mahmoud Ahmadinejad as part of a flurry of talks with Middle East leaders.
Abbas is to head to Argentina on Sunday to meet with President Cristina Kirchner.
On Thursday, Brazil's foreign ministry expressed "deep concern" over Israel's announcement that it would build hundreds of new homes in a settlement in east Jerusalem, which Palestinians want to make the capital of their future state.
US President Barack Obama warned the decision could lead to "very dangerous" consequences.
The Jewish state said it would erect 900 new homes at the Gilo settlement in east Jerusalem, which Israel invaded and occupied during the Six Day War of 1967 and subsequently annexed in a move not recognized by the international community.
-----------------------------------------------------------------------------------------------------------------------------------
Image: AFP/Evaristo Sa.