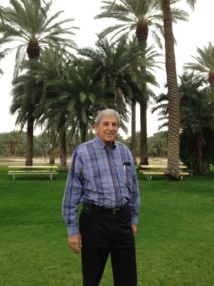 If you ever ask yourself how did Medjool (originally Majdool in Arabic) and Deglat Nour dates find their way from North Africa to the dry land oasis in Palm Desert, you have to go back in history to 1920 when Majdool date disappeared in Morocco because of a devastating plant disease. Palm Desert is close to the nearby varied landscape of the Mojave desert, once part of an ancient inland sea, Death Valley National Park , one of the driest and hottest places in north America and the area stretching from south Nevada State to Mexico which is similar in many ways to the geography and climate of Morocco.
An American visitor to that North African country at that time loved the dark brown fruit of the tall palms of Marrakesh and brought back with him cuttings of a date tree. US authorities, being afraid of disease contamination, put the cuttings in quarantine in Nevada for a whole year to observe if they were safe. When satisfied that there was no danger the visitor was allowed to plant the cuttings in the Palm Desert oasis. Nowadays, the town and the Oasis Date Gardens company is proud to export Majdool dates to Morocco, Arab states in the Gulf and also to Europe. Many wealthy families pay handsome amounts for the luxury dates they import.
When we visited this large company after the harvest was over in Cochela Valley we discovered that its general manager, Bob Harrick was of Lebanese origin but speaks limited Arabic since his family immigrated three generations ago. The company employs 2000 workers for picking, cleaning, separating various sizes of dates, then packaging and exporting the product. In the nearby coffee shop you will find several types of dates that carry their original names such as Khadrawi, Halawa, Saidi, Zahedi, Quayes, Daglat Nour and, of course, Medjool. The company and production site are located in the same area as Palm Springs and the town of Mecca which is about 150 kilometers away east of Los Angeles. The whole area was full of rare plants and blooming flowers you can only find in the desert, and the weather was mild and pleasant. Palm Desert is known as a thriving community and has an ambitious plan to reduce energy consumption by 30%. You may also find some wild life such as wolves and eagles. The nearby Palm Springs has some of the most forward-looking architects who have built houses ideal for desert living that minimizes the separation between indoors and outdoor living.
The US Department of Agriculture planted palm date trees for the first time, on an experimental basis, in 1907 after importing them from Iraq, and later planted Deglat Nour variety from Algeria. Some streets in Palm Desert are named after these dates and one major avenue is called Oasis Avenue.
Bob Harrick says that since he took over as General Manager five years ago a number of improvements have been introduced to date production and export. Manual pollination is assured by one male date tree to 49 female trees. Date bunches are covered with special paper to protect them against dust, birds and rain so they meet the standards set out by the US Department of Agriculture. Current production has reached 140 kilogram per day. The whole region yields 98% of the total date production of the US. Elie Abushanab, an American expert of Syrian origin, explained that Majdool dates are harvested 3 times during the season because the fruits do not mature at the same time. He added that Americans came now to appreciate the taste of the delicious sweet dates that contain a high proportion of iron and potassium. The well- known fruit company, Dole is now marketing and distributing dates around the world. The owner of Oasis Date Gardens, Jim Freimuth and his wife Judy emphasized that their farm produces the high quality organic dates. They receive special orders from Arab countries in the Gulf during the month of Ramadan to send as gifts of jumbo size Majdool dates which is the highest grade above large, extra fancy and fancy. They added that in the past they used to have a few camels in the farm that were used in movie scenes.
Desert tourism is at its peak these days after some of the most popular restaurants, golf courses and premium shopping were introduced. Some restaurants offer quail stuffed with sweetbreads as a signature dish. The latest celebrity that visited the area was Oprah Whenfrey and other Hollywood stars that preferred not to be identified. Palm Springs and Palm Desert have a special connection to Hollywood since celebrities have cultivated ties with them more than any other resort community. Keep your eyes open for your favorite star.