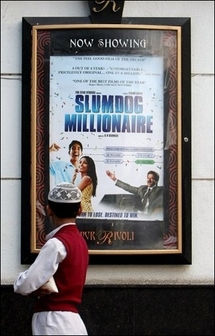 Critics in the English-language dailies lauded the film, which follows a lowly Mumbai teaboy who wins the top prize on the Indian version of the gameshow "Who Wants To Be A Millionaire?"
The Hindustan Times gave the film five stars out of five, describing it as a "masterwork of technical bravura, adorned with inspired ensemble performances and directed with astonishing empathy".
Meanwhile, Vikas Swarup, who authored the novel that inspired the movie, said he was elated at the Oscar nominations for the film, calling it "amazing news."
"It only goes to show that small can be beautiful, that hope is contagious and that a story set in a slum in India can speak to our common humanity," he told AFP in Jaipur in the desert state of Rajasthan where he was attending a literary festival.
Daily News and Analysis (DNA) gave the movie 4.5 stars, praising everything from the performances of the child actors and Simon Beaufoy's screenplay to A.R. Rahman's score, the camera work and Danny Boyle's directing.
All these combined to "elevate this movie experience to a realm that's as close to magical as you can get in the cinemas," said its reviewer, one of many who praised the movie's feel-good vibes.
The Times of India also gave 4.5 stars, brushing aside questions about whether it was a realistic portrayal of slum life and instead calling it "just a piece of riveting cinema."
"Forget the Us versus Them debate. Just go for the pure cinema experience," the newspaper said.
The Mumbai Mirror tabloid gave the film 3.5 stars, but its critic said the rating was "immaterial" as audiences would go to see it because of the publicity and Oscar nominations.
Boyle's film was "exhilarating," it said and almost every shot was "a series of stills worth being framed forever."
Newspapers reported a good turnout for the film on its first day, receiving praise from cinema-goers for the strength of its story, cinematography and music.
Nevertheless, some expressed disappointment, saying it failed to live up to the hype, was not as good as Vikas Swarup's book "Q and A," on which it was based, or that it gave a foreigner's view of India and poverty.
Cinema managers were reportedly expecting attendance to pick up over the weekend, but one highlighted how the film was viewed in certain quarters in the home of Bollywood.
"'Slumdog' is big but it is essentially a Hollywood film," Joydeep Ghoshroy, general manager for marketing and sales at PVR Cinemas, told the Hindustan Times.
-------------------------------------
Image of an Indian Muslim boy looking at a poster of the Oscar nominated film 'Slumdog Millionaire' in New Delhi, by Manan Vatsyayana.