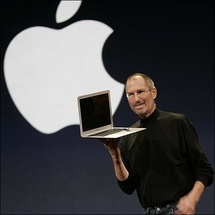 Jobs has given the Macworld keynote for the past 11 consecutive years, drawing hordes of Macintosh computer devotees eager to hear about Apple's newest innovations.
Attendance at last year's Macworld climbed to a record high of approximately 50,000 people as Apple's iPod MP3 players, Internet-linked iPhones, and Macintosh computers gained popularity worldwide.
Many analysts say Apple's transformation from a niche computer company to a mainstream purveyor of consumer electronics could be behind its decision to make this its last appearance at Macworld.
Apple has shown that it can summon legions of reporters and bloggers to its California headquarters for announcements by merely sending out cryptic email invitations.
And over the years Macworld has evolved from an Apple computer pep rally into an event at which the firm is expected to unveil products as awe-inspiring and culture-shifting as iPods and iPhones.
Such expectations this year are unrealistic given product development and production cycles, setting Apple up to disappoint its public despite even outstanding efforts by the company, analysts say.
Bowing out of Macworld is a shrewd way to avoid an expectations game.
However, the announcement that an Apple executive that has long played sidekick to Jobs will take the master's place on stage has reignited rumors that Jobs is dangerously ill.
Jobs and Apple have repeatedly declined to discuss his health, saying it is not a concern.
"There is a lot of pressure on Apple to come up with a succession plan," said analyst Rob Enderle of Enderle Group in Silicon Valley.
"They claim to have one. This might be a good time to talk about one."
Apple is downplaying its decision to pull out of Macworld, saying that its popular real-world and online stores have made it easy to connect with fans without having to spend money on an expo.
Macworld is run by event management firm IDG, which vows that the show will go on without Apple. IDG is inviting this year's attendees to a "town hall" meeting to discuss how best to shape the gathering in 2010 and beyond.
"While there is no question that Macworld is going to evolve and change in 2010, the fundamental importance of the event remains the same," said Macworld vice president Paul Kent.
"(It is) the unique ability to put exciting new Apple-related products directly into the hands of users and to inspire those users to put their products to work in new and innovative ways."
The event, running from January 6 through 9, will feature more than 450 companies promoting gadgets, gear, software or services tailored for Apple products.
For example, startup Vestalife will show off iPod speaker docks shaped like fireflies, lady bugs, jewelry boxes and butterflies, while Posit Science will demonstrate software for keeping Macintosh users' brains fit.
Major Macworld sponsor Uniea, based in Hong Kong, will tout stylish cases for iPhones, iPods and Macbook computers.
Schiller is expected to shine the Macworld keynote spotlight on a Snow Leopard operating system being crafted to follow in the paw prints of Leopard software released for Macintosh computers in 2007.
Apple is also likely to debut improved versions of iMac computers and an Apple TV set-top box for streaming video from computers to home entertainment systems.
Apple also could showcase special pricing or product deals, aimed at wooing customers in these tough economic times, according to Enderle.
-------------------------
Image of Steve Jobs by Tony Avelar.