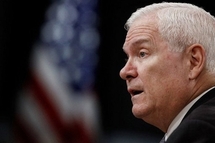 Asked about British Prime Minister Gordon Brown's proposal for a timetable for a gradual security handover from 2010 to be announced at a London conference in January, Gates said: "I think it's too early to say."
A handover could occur in some Afghan provinces and districts "relatively soon" and Washington and its allies wanted to see Kabul take the lead for security "as soon as possible," Gates said.
"But it would be counterproductive to transfer that responsibility before the Afghans were ready and had the capacity to sustain the security when we turn it over."
Gates cited Iraq as a model, where US forces have gradually shifted security responsibility to Baghdad government forces over the past two years.
"In my mind I see this happening very much along the lines that we saw in Iraq, where we partner, then we pull back to a tactical overwatch situation, and then a strategic overwatch situation, as the local security forces -- meaning Afghan or Iraqi -- take increasing responsibility."
He added that once the tide turned in Iraq, security began to improve rapidly.
"You know, things turned pretty quickly in Iraq once they started to turn. So I think we just have to wait and see."
The transfer in Iraq occurred after former president George W. Bush ordered a "surge" of additional US forces in 2007 to bolster security.
Gates' comments came as President Barack Obama prepares to announce his decision on whether to endorse a major troop buildup in Afghanistan, beyond the more than 21,000 forces he has approved since taking office.
Brown suggested on Monday a timeframe for handing over security district by district -- starting as early as 2010 -- could be drawn up in the new year.
Echoing Brown's comments, NATO Secretary General Anders Fogh Rasmussen said on Tuesday that the alliance should begin handing over security duties next year.
"We will do this in a coordinated way, where conditions permit, and this will allow us to progressively move into a support role," Rasmussen said on Tuesday.
The NATO chief said he expected an increase in international forces to be agreed "in a few weeks" but underlined that the ultimate goal was to move from a combat to a support role, starting next year.
-------------------------------------------------------------------------------------------------------------------------------
Image: Chip Somodevilla/AFP.