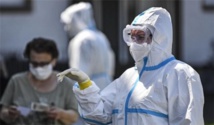 Many of the current measures are set to expire on Monday. However, an updated decree is expected to be published shortly.
Prime Minister Giuseppe Conte is planning to extend the measures to combat the virus until September 30, Italian daily Corriere della Sera reported.
If implemented, the move would see Italians continuing to wear protective face masks on public transport and in public buildings.
Masks are also to be required in open squares and other outdoor areas between the hours of 6 pm and 6 am.
Buses would only be able to be filled to 80 per cent of their capacity. And people would have to stay at least 1 metre away from one another.
Major gatherings are to remain banned, as are concerts and dances. Football games would continue to be played behind closed doors.
The report also said any travellers arriving from Croatia, Greece, Malta and Spain would still be required to provide proof of a negative test for the coronavirus.
The response comes as Italy's case numbers continue to rise, with 1,700 new infections recorded in 24 hours on Friday, the highest level since early May.
Notepad