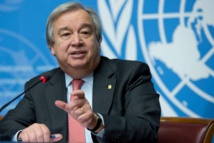 "Degradation of nature is not purely an environmental issue - it spans economics, health, social justice and human rights," the UN chief said.
"Neglecting our precious resources can exacerbate geopolitical tensions and conflicts. Yet, too often environmental health is overlooked or downplayed by other government sectors."
The UN chief said countries had "largely failed" at protecting the planet.
Earlier this month, the UN published a major assessment, which found that none of the 20 global biodiversity targets agreed 10 years ago with a 2020 deadline have been fully met.
Guterres said governments must include nature-based solutions in coronavirus recovery plans, investing in forests, wetlands and oceans.
Nature must be accounted for by financial markets, as the current system was "weighted towards destruction, not preservation," he said.
Guterres urged world leaders to secure "the most ambitious policies and targets that protect" the natural world through the biodiversity framework to be adopted at the UN's landmark COP15 biodiversity convention in Kunming, China in May.
Wednesday's largely online event gave more than 100 heads of state and government the opportunity to raise ambition for the development of the 10-year-strategy.
"The loss of biodiversity and the degradation of the ecosystem pose major risk to human survival," Chinese President Xi Jinping said, urging humanity to turn the planet into a "beautiful homeland."
However, Xi did not make another major announcement, after pledging last week that China would achieve carbon neutrality before 2060.
French President Emmanuel Macron said "2021 must be the year of action," while European Commission President Ursula Von der Leyen reaffirmed her commitment to the new global biodiversity framework.
Britain's Prince Charles told the event: "We are I'm afraid at the last hour. We know what we need to do ... Let's get on with it."
German Chancellor Angela Merkel was also among the leaders set to speak at the oversubscribed event, while the United States was not participating.
Ahead of the summit, leaders from more than 70 countries and the European Union signed a pledge to reverse losses to natural habitats by 2030.
But leaders of some of the world's worst polluters - Brazil, China, India and the US - did not sign the pledge.
Swedish climate activist Greta Thunberg noted that "it's so easy to pledge."
"Everyone wants to save nature and save the climate. When it comes to real action however, they fail every single time," she tweeted.