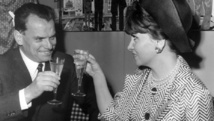 مؤسس مهرجان برلين - من صور المهرجان
She said the research represented an important element in the process of dealing with the Nazi past of German cultural institutions founded after 1945 and how certain individuals helped to shape the nation's post-war cultural scene.
Bauer, who died in 1986 age 75, was a one-time advisor to the Reichsfilmintendanz, a body created by Hitler's Propaganda Minister in 1942 to oversee film production during the Third Reich.
He was also former member of Hitler's paramilitary SA group before joining the National Socialist Party in 1937, according to the study, which was carried out by the Leibniz Institute for Contemporary History.
"Bauer systematically shrouded this role after 1945," the study concluded.
The Berlinale commissioned the Bauer study following media speculation about the role he played in the film industry in Nazi Germany.
"The documents also make it clear that Alfred Bauer was not only an important functionary within the Reichsfilmintendanz, but that he also carried out his job there in a committed and dutiful manner," the institute said.
"His employment in the Reichsfilmintendanz contributed to the functioning, stabilisation and legitimation of the Nazi regime," the study said.
In 1951, Bauer became the first director of the newly-founded film festival.
He held that position until 1976, helping to oversee the festival's development into what is today one of the world's top film showcases.
In the wake of the media revelations about Bauer, which first emerged shortly before the opening of this year's festival in February, the Berlinale renamed the prize bearing his name.
The Alfred Bauer Prize, awarded to a film that opened new perspectives in cinema, had been presented each year since 1987 as part of the festival's awards.