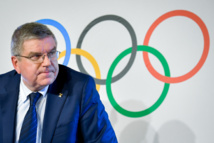 "I think that is too complicated," Bach told a media round on Sunday while attending the world road cycling championships at Imola, Italy.
"I have not considered it yet and don't know if it is one of the scenarios in the working groups. If you ask me personally, I think that it would be too complicated to change the venues."
An event at the Games, July 23-August 8, 2021, in the Japanese capital is "not alone, we have 33 world championships at the same time," said Bach.
The question was asked after Bach said that it might be necessary to differentiate fan access to events held inside and outside in Tokyo due to the coronavirus.