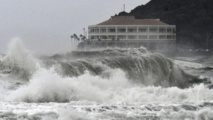 Authorities in Kumamoto and Kagoshima provinces on one of Japan's main islands, Kyushu, ordered more than 200,000 people to leave their homes and seek refuge on Saturday.
Aerial images on Japanese television showed murky water covering homes, streets, cars and parts of a bridge.
Entire residential areas stood under water, parts of houses were swept away and trees were ripped out at the roots.
Local media reported that two people in hard-hit Kumamoto who had been buried by a landslide showed no life signs.
The heavy downpours saw the Kuma river in Kumamoto burst its bank, leading to severe flooding.
The military was called in to support the emergency services.
Meteorologists in Tokyo issued the highest warning level for many areas.
Japanese Prime Minister Shinzo Abe announced at an emergency meeting that around 10,000 soldiers would be sent into affected areas and emergency supplies would be distributed.
Heavy rainfall could affect parts of Japan's west until Sunday.
Notepad