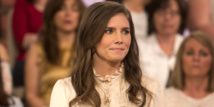 Amanda Knox
The debate Knox is scheduled to join, on June 15, is called "Wrongful conviction and judicial populism."
Knox wrote on Twitter that she was invited to speak by the Italy Innocence Project, which is helping organize the event.
"I'm honored to accept their invitation to speak to the Italian people at this historic event and return to Italy for the first time," she said.
Knox was arrested in 2007 with her then-Italian boyfriend Raffaele Sollecito following the murder of her British flatmate Meredith Kercher, in the university town of Perugia.
She and Sollecito remained in prison until a 2011 appeal ruling quashed their first conviction. Knox returned to the United States after that verdict, and she has not set foot in Italy since.
Trials over the Kercher murder case continued, attracting huge media attention. Following a few more appeals, Knox and Sollecito were finally cleared by Italy's Supreme Court in 2015.
Only one person - Rudy Guede, an Ivory Coast-born drug dealer - was handed a definitive guilty verdict, in 2010. Yet judges said he did not act alone, leaving open the question of who were his accomplices.