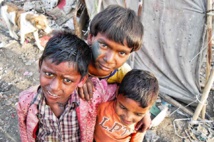 The random survey looking for antibodies in nearly 7,000 residents of the three districts showed that in slum areas far more people - 57 per cent of those tested - had contracted coronavirus.
In non-slum areas, prevalence of the virus fell to just 16 per cent, Mangala Gomare of the Greater Mumbai Municipal Corporation said.
India's financial hub has emerged as one of the epicentres of the coronavirus with more than 110,000 infected and 6,184 deaths.
About 1.5 million people live in the areas surveyed. Mumbai's total population is estimated at 12.5 million.
Scientists behind the survey say the results cannot be extrapolated or be seen as representative for Mumbai's entire population, rather they should be seen as indicative.
The survey was conducted in July by the city's municipal corporation, government think-tank Niti Aayog and the Tata Institute of Fundamental Research in collaboration with three diagnostic institutes.
The survey's results suggested a high proportion of those infected showed hardly any symptoms and that the fatality rate was low, at between 0.05 and 0.1 per cent.
The higher prevalence in slums was likely due to population density and shared facilities like toilets and water sources, the study said.
While cases continue to spike across several regions in India, the virus appears to have slowed in Mumbai, which reported 700 new cases Tuesday compared more than 1,000 a day a few weeks back.