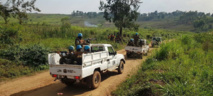 The administrator of the Djugu territory, Abel Alingi, told dpa that a militia had attacked people in the villages of Dego and Banana, looting homes and setting them on fire before fleeing on Monday morning.
He said, however, that this was a provisional report and that teams on the ground were still verifying the number of casualties.
Alingi said the attackers were suspected to be from the Cooperative for the Development of Congo, or CODECO, and that they had used machetes and firearms to attack the civilians.
Alingi claimed the country's armed forces are "determined to neutralize this movement."
Eastern Congo is beset by various problems, including active rebel groups, many of whom are fighting for control of valuable natural resources, and an Ebola outbreak that has killed more than 2,000 people.
Ituri province also has a history of inter-communal violence between the Hema and Lendu groups.