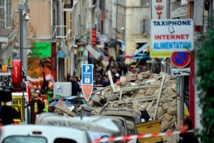 Housing Minister Julien Denormandie described the task as a "race against time" during a press conference after the buildings collapsed on Monday morning.
Local media reports said at least two passers-by were injured in the accident, and that authorities had destroyed a third building deemed to be unsafe.
The buildings were located in a small shopping street in the centre of the city. One of them was dilapidated and empty, according to the authorities.
According to Denormandie, around 10 people lived in the other one, which was undergoing building work. "These are the people we are looking for now," the minister said.
Leading left-wing politician Jean-Luc Melonchon, who visited the scene on Monday, had reportedly been critical of the city's housing policy. "It is the houses of poor people that collapse - and that is no coincidence," he was quoted as saying by local media.
French President Emmanuel Macron expressed his solidarity with the city of Marseille as it dealt with the collapse.
Notepad