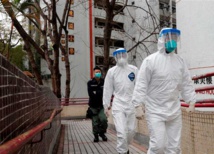 "At this point, we are not going to put any further strain on the quarantine arrangements around the country and that will remain in place now for some months."
Morrison said he hoped to "alter" the policy "at some point" in the future.
The restrictions on all international visitors started in March. At the time Australia had less than 700 Covid-19 cases.
Australia has now recorded more than 20,000 coronavirus cases, with 266 Covid-19-related deaths.
Only Australians, permanent residents and their close family members are allowed to come into the country. There is also a travel ban on Australians leaving the country.
While the rest of the country is doing relatively well in containing the virus, Victoria has over 7,000 active cases, most of them in the state's capital Melbourne - Australia's second-most populous city.
Victoria's latest outbreak, which started late June, is said to have been due to security lapses in hotel quarantine for those returning to Melbourne from overseas.
The state government declared a state of disaster earlier this week, imposing tough new restrictions on Melbourne, including a night-time curfew and closing down businesses and shops.
On Friday, Victoria recorded 11 deaths and 450 new coronavirus cases - 139 of which were health care workers.