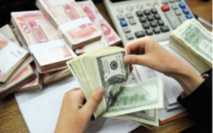 The inquiry, led by High Court Justice Kenneth Hayne, said the Australian financial sector needed an overhaul, warning that "saying sorry and promising not to do it again" will not suffice.
Most of the misconduct either went unpunished or the consequences did not meet the seriousness of what had been done, the inquiry said.
Some of the findings included charging fees for no service and taking money from customers who had been dead for up to a decade, as well as knowingly increasing credit-card limits to problem gamblers.
Compensation for the "fees for no service" scandal is expected to amount to billions of dollars.
"Misconduct will be deterred only if entities believe that misconduct will be detected, denounced and justly punished," the report said.
The inquiry made 24 referrals for possible civil or criminal action.
It also unveiled 76 recommendations to the government, including setting up a compensation fund for those who lost money due to bad advice from financial advisers.
In Australia, royal commissions are convened on issues of special public importance and have extensive investigative powers.
The inquiry into the financial sector was established in 2017 by then-prime minister Malcolm Turnbull after reports of misconduct, irregularities and corruption.
The commission held 68 days of public hearings with 134 witnesses and received more than 10,000 written submissions.
The 1,000-page report also blamed the misconduct on board and senior management at the institutions, and was scathing of some bankers for not accepting responsibility.
"It seemed to me that there remain elements of unwillingness to recognize, and to accept responsibility for, poor conduct of the kinds examined in this inquiry," Hayne said in the report.
Australia's Treasurer Josh Frydenberg said the government will take action on all recommendations and the banking sector "must change."
"As we have heard, too often the conduct within our financial institutions has been in breach of existing laws and fallen well below community expectations," he told reporters in Canberra.
"The price paid by our community has been immense and goes beyond just the financial. Businesses have been broken, and the emotional
stress and personal pain have broken lives."
Anna Bligh, the Australian Banking Association's chief executive, said the report contained some tough words for banks, including possible court cases.
She said people cynical about whether banks will change should "not judge banks by their words but by their actions, in the coming weeks, the coming months, as they implement this report."