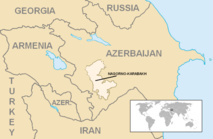 Azerbaijan's Defence Ministry was still in the process of counting military casualties, said Hikmat Hajiyev, a foreign policy aide to President Ilham Aliyev, on Tuesday.
He told reporters via videoconference that 10 civilians had been killed so far, including a child, and 29 were seriously wounded.
German Chancellor Angela Merkel has spoken to both Armenian Prime Minister Nikol Pashinyan and Aliyev in separate telephone calls, her spokesperson said on Tuesday.
The discussions focused on the escalation in the conflict between the two countries, government spokesperson Steffen Seibert said.
Merkel stressed the importance of an immediate truce and a return to the negotiating table for both sides, Seibert added.
Asked about the European Union's role in reducing tensions, Hajiyev said Azerbaijan had taken note of all the telephone diplomacy and statements.
But "just expressing concern is not enough, there should be real actions on the ground" for Armenia to come to the negotiating table, he said.
The flare-up began at the weekend. It is the bloodiest fighting in years between the former Soviet republics, which fought a war over the disputed region in the late 1980s and early 1990s as they transitioned into independent countries amid the dissolution of the Soviet Union.
Impoverished Armenia has relied heavily on backing from Russia, with which it has a shared Christian heritage. Oil-rich Azerbaijan is supported by predominantly Muslim Turkey, with close ties between their ethnic Turkic populations.
In a rare moment of Russia and the European Union expressing the same position on an issue, they both called on Monday for an immediate ceasefire between Azerbaijan and Armenia.
Hajiyev, the senior Azerbaijani official, outright rejected media reports that Syrian fighters were being sent by Turkey and also denied the use of Turkish military equipment.
He called the reports about the use of Syrian fighters as "propaganda and fake news from Armenia," and "absolutely baseless and groundless."
"Why should Azerbaijan bring others to its sovereign soil?" he asked.
While acknowledging the close ties between Baku and Ankara, he denied any military support from Turkey.
"Azerbaijan is an independent country and Azerbaijani armed forces are capable of fulfilling any mission. Turkey's intervention or participation is simply disinformation and propaganda by the Armenian side," he said.
He insisted that Azerbaijan was committed to a peaceful resolution of conflict, but Armenia's "aggression must stop," adding that "we are tired of the Armenian side cheating the international community and cheating the negotiating process."