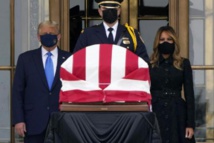 Trump's visit came amid an intense political struggle over Ginsburg's successor.
The president has said he will make public on Saturday the name of his nominee to fill the vacancy on the Supreme Court, with the backing of his Republican Party.
Democrats have opposed the move, saying the winner of the November race for the White House should get to select the new justice.
On Wednesday, Trump declined to fully commit to a peaceful transfer of power following the election. He has been indicating in this election cycle he might seek to challenge the election results in court, a course of action taking on new meaning as he prepares to quickly fill the Supreme Court vacancy.
Ginsburg died last week at age 87 after a battle with cancer.
Her casket arrived at the Supreme Court on Wednesday. After a private ceremony with family, close friends and fellow justices, it was placed atop the court's stairs for public viewing.
The former judge is due to be laid to rest in a private interment service at Arlington National Cemetery next week.
She was seen as a liberal judge and was a staunch advocate for women's rights, both in her career as a lawyer and as a judge.