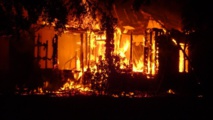 "We had to struggle to douse the fire because of flammable chemicals that were stored in the building," said AKM Shakil Newaz, director of Fire Service and Civil Defence.
Over 40 people have been admitted to the Dhaka Medical College Hospital. At least nine of them suffered burn injuries, said Sohel Mahmud, head of forensics at the hospital.
The fire broke out at around late Wednesday on the ground floor of a four-storey building in an old part of the city before spreading to adjacent buildings
Flammable materials in the shops and warehouses caused the fire to quickly spread, said Fire Service and Civil Defence Director General Ali Ahmed.
"We were standing in the street after having dinner. Suddenly we heard a big blast and saw fire in the sky," said resident Mohibul Hasan.
Hasan also said soon after the fire broke out, loud blasts erupted from a store on the first floor that sold cans of spray deorderant.
The old city's narrow streets were so congested that fire fighters struggled to reach the scene.
"There were three hotels in the area and flame spread to all those hotels. There were few gas cylinders in those hotels which caught fire. The flame spread across the buildings on the street and as there was a huge traffic jam, people died on the street as they could not escape from the scene," said Mohammad Nabiullah, another resident.
Notepad