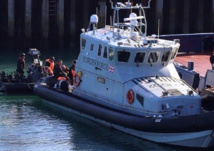 The Home Office said border police handled six incidents involving 102 migrants off the coast of south-eastern England on Friday after being "alerted to small boats in the Channel travelling towards the UK."
Most of the migrants said they were from Iran, with others from Iraq, Syria, Afghanistan and Pakistan, it said in a statement.
"The cases of all 102 people found today will be dealt with according to the immigration rules," it said, adding that seven migrants claimed to be minors.
It said border police had intercepted 90 migrants, including 15 minors, off the English coast on Thursday.
Security Minister Brandon Lewis insisted that "the majority of migrants who attempt this journey are being stopped."
Only about 25 per cent of migrants who attempted the crossing had succeeded so far this year, compared with 48 per cent last year, Lewis said, without giving totals for the two years.
French authorities intercepted 216 migrants from January 20 to February 5, preventing 10 crossings on land and eight at sea, the Home Office said.
Some reports suggested the spike in arrivals on Thursday and Friday could be due to relatively calm weather in the Channel, ahead of gales forecast this weekend.
At least 1,892 migrants crossed the Channel to Britain by boat last year, the BBC reported.
Notepad