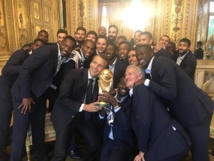 After a photo shot on the runway surrounded by cheering airport workers, they were driven with a police escort to the Champs-Elysees in central Paris.
For hours already, the wide avenue had been tightly packed with crowds - hundreds of thousands, according to a police source - eager to greet them.
"This victory is the victory of France's young generation - we've waited 20 years for it," one supporter, Pierre, told dpa as he waited.
Pierre's daughter was too young to have seen France's only other World Cup win in 1998. "This is her victory!" he said.
The team changed from their football kit to white T-shirts, marked with the two stars of France's two World Cup wins, before their open-top bus rolled down the avenue.
White and pink smoke bombs set off by supporters mixed with the shouts of the crowd.
An air force display team flew overhead, setting off exhaust trails in the blue, white and red colours of the French tricolour.
Only minutes later, the bus turned the corner for the Elysee Palace, where the footballers quickly changed again, this time into suits, for a reception hosted by President Emmanuel Macron and his wife Brigitte.
But the usually rigid protocol of the presidential palace dissolved into good-humoured near-mayhem as the Macrons greeted the squad on a red carpet usually reserved for visiting heads of state.
The team joined the presidential couple on the palace steps for a much more ragged and spontaneous rendition of the French national anthem than is usually heard in the Elysee courtyard.
At the phrase "Aux armes, citoyens!" - "Arm yourselves, citizens!" - goalkeeper and captain Hugo Lloris brandished the cup aloft.
As the group entered the palace, even two of the stern sentries of the Republican Guard, in old-fashioned cavalry uniform and bearing sabres, cracked smiles beneath their heavy helmets.
Emerging in the garden on the other side of the building, the homecoming heroes were greeted by another crowd of invited supporters, including a thousand young athletes, many of them from the local clubs around France where the players had first kicked balls.
"Don't change!" Macron told the team. "This team is beautiful because it's united, and because it's strong and proud of France. Don't change!"
As players took the microphone to incite the crowd to sing and jump, coach Didier Deschamps joined in with as much gusto as any of his young squad.
A source in the Elysee Palace said the team would be awarded the Legion of Honour, France's highest official distinction, like their predecessors who brought the trophy home in 1998.
Deschamps, who skippered France to its 1998 victory, has joined Brazil's Mario Zagallo and Germany's Franz Beckenbauer as the only footballers to lift the World Cup as both player and coach.
Notepad