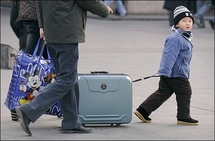 The Lunar New Year falls this year on January 26, but for the Chinese rail network the period between departures and returns lasts 40 days, with passenger numbers expected to peak between January 21 and 24.
Many Chinese have decided to combine their annual holidays with the festival because it falls this year in January, a month that includes three of the annual 14 national holidays.
In recent weeks official state media have frequently reported on mass movements of migrant workers from the south of China as factories close early because of a drop in demand for the good they produce.
The government in December asked provincial authorities to ensure these often exploited workers receives their wages in time for the New Year getaway. According to the official figures, China has some 210 million migrant workers.
----------------------------------------
Image of a young boy pulling his suitcase by Peter Parks.