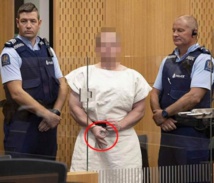 The alleged white supremacist is due to appear on Friday for a court hearing in the Christchurch High Court via audio-visual link from Auckland, where he is being held in New Zealand's only high-security prison.
New Zealand police said that other charges were "still under consideration," adding that they would not comment further as the case is before the court.
The man is due to appear for his second court hearing since 50 people were killed and a further 48 injured at Christchurch's Linwood and al-Noor mosques on March 15.
At his first court appearance, the day after the attack, the man was charged with one count of murder but further charges were added on Thursday. Police have not confirmed whether he will face any terrorism-related charges.
High Court judge Cameron Mander declined applications from national and international media to film, take photos or record Friday's hearing.
In a minute released ahead of the session, the judge said the suspect is not required to enter a plea at the hearing but will have to clarify his position on legal representation. After the first court appearance he indicated that he was planning to defend himself.
There are concerns that he will use his trial as a platform to broadcast his white supremacist beliefs, in a manner similar to Anders Breivik, the Norwegian right-wing terrorist who murdered 77 people in 2011.