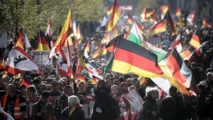 Police in the south-western German city of Freiburg kept the two groups separated, with the AfD demonstration route having to be redirected after counter-demonstrators blocked the original way.
The AfD had asked people to take to the streets of Freiburg to express outrage, while Freiburg Mayor Martin Horn called for calm.
"I hope the demonstrations will be peaceful and will not lead to further violence and hatred. In Freiburg there is no room for criminals and such terrible crimes," Horn told dpa. Neither was there room, he said, for people who wish to exploit such crimes for political gain.
On the evening of October 13, an 18-year-old woman is believed to have been raped by a group of men after she went to a club in Freiburg's city centre.
The student said she received a drink from a man she did not know. Around midnight she left the club with this man but said something the man put in her drink made her defenceless.
She said one of the suspects then sexually assaulted her in nearby bushes, followed by the other men.
A police spokeswoman confirmed that a substance had been detected in her blood.
Police have arrested eight suspects who are currently in pre-trial detention: seven Syrian nationals aged between 19 and 29, and one 25-year-old German national. The police spokeswoman refused to comment on earlier reports that they suspected more men were involved.
One of the men had an arrest warrant for a different crime but had not yet been arrested for reasons related to the investigation, the Baden-Wuerttemberg Interior Ministry said on Monday.
A 13-member special investigative team has been set up at the Office of Criminal Investigation for the state of Baden-Wuerttemberg, in which Freiburg is located.
The authorities say the men, most of whom live in refugee accommodation in the city, are known to them for other crimes.
Freiburg, a city of 230,000 inhabitants, made headlines some two years ago when a female student was murdered there. A young refugee was convicted of the crime in March.