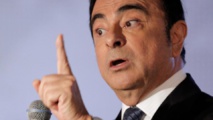 Ghosn, his aide Greg Kelly and the carmaker itself have been indicted over an alleged understating of Ghosn's pay package by about 5 billion yen (44 million dollars) over five years.
Ghosn has been in pre-trial detention since November 19. He could be freed soon, but authorities could arrest him again on a separate charge, according to news agency Kyodo.
Ghosn and Kelly are accused of having violated Japanese stock exchange regulations.
Brazilian-French-Lebanese business leader Ghosn spearheaded a remarkable turnaround at Nissan. Nissan and Mitsubishi both dismissed Ghosn as chairman while Renault decided to retain the 64-year-old as chairman and chief executive following the arrest in Tokyo.