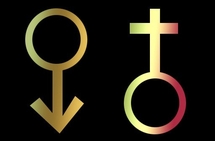 The Strasbourg-based court said Switzerland's Federal Insurance Court had violated Nadine Schlumpf's human rights when it dismissed her case against SWICA medical insurance for not reimbursing her operation costs.
Sclumpf, 72, was known as Max until she had a sex change aged 67 in 2004. She had waited until her children were grown up and her wife had died of cancer in 2002 to start undergoing treatment.
------------------------
Image of gender symbols, from AFP.