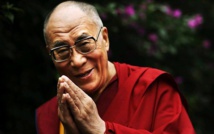 The 83-year-old Tibetan spiritual leader suffered from mild pneumonia and was admitted to a private hospital on Tuesday.
"His Holiness has almost recovered and is in a 99 per cent normal condition now," his spokesman Tenzin Taklha said.
"The chest infection has been treated and he will be discharged from the hospital tomorrow (Friday)," he added.
The Dalai Lama was brought to New Delhi from Dharamsala in northern India, where he has lived in exile since fleeing Chinese-ruled Tibet in 1959, following a failed uprising.
The Tibetan monk would spend a few days in the city before returning to Dharamsala, Taklha added.
The Dalai Lama keeps a hectic schedule, often travelling overseas to deliver lectures on Buddhist teachings and drawing attention to the Tibetan movement.
China considers the Dalai Lama to be a separatist and accuses him of fomenting unrest in Tibet, to which he is not permitted to travel.
The Dalai Lama denies being a separatist and advocates the "Middle Way" approach which favours greater autonomy for Tibet instead of full independence.
The Dalai Lama, the face of the Tibetan community for the world, was awarded the Nobel Peace Prize in 1989 for his efforts to achieve a non-violent solution to the Tibetan problem.
He wields enormous influence internationally as well as among Tibetans living within Tibet and abroad.