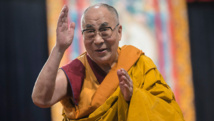 In a video message from his abode in India's northern hill town of Dharamsala, the Dalai Lama said the celebrations were not necessary amid the coronavirus pandemic but if his followers wanted they could recite the Buddhist Mani Mantra at least 1,000 times.
"With that practice you will create some roots of virtue that you can dedicate for me – Avalokiteshvara's messenger – to live for 108 or 110 years or so," he said.
The 14th Dalai Lama is considered to have been reincarnated over generations and is venerated as a living embodiment of the Buddhist deity Avalokiteshvara.
The Dalai Lama's debut album "Inner World" - on which he recites mantras, meditations and teachings with accompanying music - was also released on Monday.
"People in Tibetan localities throughout India are also praying from inside their homes for the long life and health of His Holiness," one of his aides, Tseten Samdup, told dpa.
The Tibetan government-in-exile, which has its seat in Dharamsala, said it was organizing a series of worldwide online events in appreciation of the Dalai Lama's leading of the Tibetan liberation movement and anchoring Tibetans who lost their homeland.
The Dalai Lama and thousands of followers fled to India in 1959 after China cracked down on an uprising in March of that year. The Buddhist leader was awarded the Nobel Peace Prize in 1989 for his non-violent campaign for democracy and freedom in his homeland.