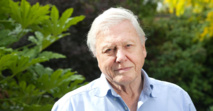 "I am making this move and exploring this new way of communication, to me, because, as we all know, the world is in trouble," Attenborough, 94, said in his first post, a video.
"Continents are on fire, glaciers are melting, coral reefs are dying, fish are disappearing from our oceans. The list goes on and on," the British broadcaster said.
"But we know what to do about it," Attenborough said.
"Over the next few weeks I'll be recording messages to explain what the problems are and how we can deal with them."
Attenborough attracted almost one million followers in just a few hours after publishing his first post.
The account is run by the producers of his recent film "A life on our planet," which is due to hit cinemas next week.