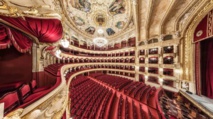 The guests in the gods booed and shouted and clapped and stamped, according to newspaper El Pais and other media on Monday. Despite the protests, the performance of Giuseppe Verdi's "A Masked Ball" began but was called swiftly to a halt.
Teatro Real said that the protest from "a minority" had forced the abandonment, even though "all valid requirements" had been followed. Only 51.5 per cent of seats were occupied, it said, adding that an investigation of the "regrettable case" would be undertaken to avoid a repeat.
Newspaper ABC wrote of a "scandal." Videos posted by media and patrons showed packed top rows, while many seats in the parquet remained vacant.
Writer Rosa Montero wrote on Twitter: "I was there and it was a disgrace. There were no safe distancing." But she said that it wasn't just confined to the cheap seats, saying people in the dearer spots had been likewise "penned in."
"I fear it was complete incompetence rather than discrimination," she wrote.
Spain has been the European country hit hardest by the pandemic, with more than 640,000 infections and nearly 30,500 Covid-19-related deaths. Madrid and the surrounding region have seen more than a third of all new infections in recent weeks.