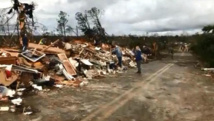 The tornadoes have also left more than 50 people requiring treatment at East Alabama Medical Center, the Opelika-Auburn News (OAN) cited officials as saying.
A "more intensive search" would begin early Monday for those missing in isolated parts of the affected area, Jones said, adding that the death toll could rise.
More than 17,000 Alabama Power Company customers were left without electricity during the peak time for outages on Sunday, OAN reported, quoting a statement from the company.
"To the great people of Alabama and surrounding areas: Please be careful and safe. Tornadoes and storms were truly violent and more could be coming. To the families and friends of the victims, and to the injured, God bless you all," US President Donald Trump said on Twitter.
Tornado warnings were earlier issued by the National Weather Service (NWS) in state capital Birmingham, about 180 kilometres north-east of Lee County.
The office used its Twitter account to show the damage caused by the tornadoes, sharing community photos of downed phone towers and destroyed buildings.
It said it had confirmed at least "8 fatalities (likely more) in Lee County. At this time, we cannot confirm anything higher... Many injured & still missing."
The first tornado to hit the county was almost a kilometre in width and had a wind speed of at least 218 kilometres per hour, the NWS added.
Central Alabama is part of the lower Mississippi Valley, nicknamed Dixie Alley because of its vulnerability to violent tornadoes.