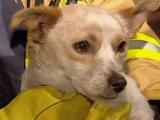 A pet dog in Australia has risked its life to protect four kittens trapped in a house fire, according to firefighters.
When the fire broke out inside the house, the family of four plus their other dog managed to escape.
A 37-year-old woman, her 18-year-old son, two daughters aged five and 11 and their pet dog Barney all got out of the house in the western suburb of Seddon.
Left inside was Leo and four kittens. While everyone else had rushed out of the burning house, Leo refused to leave the tiny kittens trapped inside.
When firefighters arrived they found Leo inside a bedroom, guarding the kittens in a cardboard box.
However Leo paid the price for his bravery. He suffered from the smoke and heat.
Firefighters rushed the dog to safety and revive the unconscious Leo with a heart massage and oxygen.
Leo was recovering from his ordeal and firefighters had given him a clean bill of health.
The cause of the fire is still being investigated.