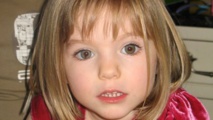 There were similarities with the case of the British girl who went missing in Portugal in 2007, the spokesperson said.
The cold case team has presented the case to German police in Lower Saxony.
The state public prosecutor's office is currently investigating a 43-year-old German man who has been convicted of multiple sexual offences as a murder suspect in the case of Madeleine McCann.
The Hague police is investigating a possible link between between the case of McCann and that of the disappearance of the Dutch boy, the spokesperson said, without giving further details.
The seven-year-old disappeared in 1995 after a day at a North Sea beach close to The Hague.