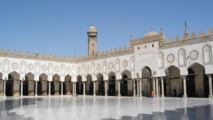 Egypt's health authorities have reported 285 confirmed infections, resulting in eight deaths. Of them, 39 cases have seen recoveries, with the patient discharged from hospital.
The Awqaf Ministry, which is in charge of mosques in Egypt, said in a statement that the five daily Muslim prayers and the Friday congregational prayer will be suspended across the country.
Also, Ahmed al-Tayeb, the grand imam of al-Azhar, a major seat of Sunni Islamic learning, decided to suspend all prayers at the al-Azhar Mosque.
The Coptic Orthodox Church said in a statement that all churches will be shut down and masses and services will be suspended across Egypt for two weeks.
Christians account for around 10 per cent of Egypt's predominantly Muslim population of about 100 million. The vast majority of them belong to the Coptic Orthodox Church.