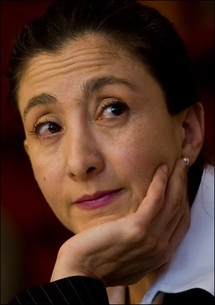 "You won't see me for a while because I need to be alone to write and to try to do something that is necessary, which is to give an account of what I lived through," Betancourt told reporters at the residence of French ambassador to Mexico Daniel Parfait.

The former politician, who was held hostage for more than six years by Revolutionary Armed Forces of Colombia (FARC) guerrillas until a daring rescue operation in July by Colombia's military, spoke at the conclusion of a whirlwind tour of Latin America where she has pressed for regional cooperation to release hostages.

Betancourt, 46, said that in the coming days she would only appear in public to support the hundreds of hostages in Colombia and elsewhere in the world, citing Burmese activist Aung San Suu Kyi and Israeli soldier Gilad Shalit.

A presidential candidate for Colombia's Green party when she was abducted in 2002, Betancourt reiterated that she was not seeking public office in Colombia at this time.

Colombian politics "do not strike me as attractive and are sometimes frankly disgusting," she said.

"I am not motivated by personal ambitions," she said.