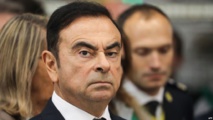 The Tokyo District Court decided to allow prosecutors to detain Ghosn until April 14, the court said. Prosecutors can ask the court to extend the detention for a further 10 days.
The arrest was requested by prosecutors on Friday, a day after Ghosn was taken into custody over a new allegation that he was responsible for Nissan sustaining a 5-million-dollar loss.
Ghosn said the arrest, his fourth, was "outrageous and arbitrary."
The 65-year-old, who served as chairman of the Renault-Nissan-Mitsubishi Motors alliance, was first arrested on November 19 and has been charged with financial misconduct and breach of trust.
Thursday's arrest came nearly a month after he was released on bail from the Tokyo Detention Centre in early March after 108 days in custody.
Ghosn has denied the charges against him.
Arresting a defendant on bail was an "outrageous act that should not happen in a civilized country," Ghosn's lawyer Junichiro Hironaka Hironaka told a news conference on Thursday.