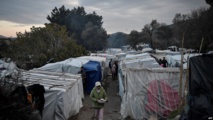 In addition to tear gas, Greek security forces used water cannon to repel the migrants and put the fires out.
The incidents have become routine over the past two weeks by the Kastanies-Pazarkule border crossing at the very north of the 200-kilometre land border.
In Athens, government spokesman Stelios Petsas on Friday repeated the accusation that Turkey is exploiting the migrants to push through its demands to the European Union.
The migrants rushed to the border zone hoping to cross into Europe after Turkey said on February 29 that the border is open and it is not going to stop them any more.
Greece gave a tough response, vowing not to let anyone pass illegally from Turkey. EU leaders, who insist that the borders remain closed under the 2016 pact with Turkey, have backed Athens.
Under the agreement, the EU pledged billions of dollars to Turkey to host millions of mostly Syrian refugees and keep the migrants, who want to reach wealthy European countries, away from the border.
Turkish Foreign Minister Mevlut Cavusoglu, however, said this week that his country wants the agreement updated. Ankara says the EU has not kept its promises and that it cannot cope with more refugees from the latest conflict zone in Syria.
On Tuesday, Erdogan is due to meet German Chancellor Angela Merkel and French President Emmanuel Macron in Istanbul when the topic is sure to dominate the discussions.
Notepad