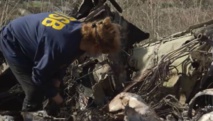 According to an older version of the company's website, Island Express has been family-owned since 1986 and operated "the
West Coast's
largest fleet of Sikorsky S-76 passenger aircraft, the most-trusted name in helicopters." Along with daily flights to
Santa Catalina Island
, it sold customizable charters, aerial tours and vacation packages.
The company advertised it's Sikorsky S-76 as providing a premium flying experience, noting customers could "fly in the same helicopter used by the president of
the United States
and the British royal family."
Bryant regularly used a Sikorsky S-76B that was built in 1991 and owned by the charter service.
The helicopter departed
John Wayne Airport
at
9:06 a.m. Sunday
(1706 GMT), according to publicly available flight records. It passed over
Boyle Heights
, near
Dodger Stadium
, and circled over
Glendale
during the flight.
The chopper wasn't equipped with an alarm system that could have warned the pilot that he was approaching a hillside, according to the
National Transportation Safety Board
. The agency recommended 16 years ago that the
Federal Aviation Administration
require all helicopters carrying six or more passengers to be equipped with a terrain awareness and warning system.