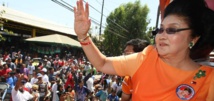 The 89-year-old congresswoman appeared before the Sandiganbayan anti-graft court one week after she was convicted and sentenced to at least 42 years in prison.
She was accompanied Friday by her children and grandchildren.
The court found Marcos guilty of illegally funnelling millions of dollars into Swiss bank accounts starting in the 1970s, while her husband, former president Ferdinand Marcos, was in office.
But the former first lady failed to appear at her promulgation on November 9, forfeiting her chances of filing an appeal and seeking a reversal of the conviction.
On November 12, her lawyers filed a motion asking the court to restore her standing as an accused and be given the chance to appeal her conviction.
They cited Marcos' numerous ailments as reasons for their failure to attend the promulgation.
"The accused was suffering from multiple organ infirmities and was under strict orders from her physician to refrain from stressful conditions that will put her at risk for heart and brain attack and recurrence of seizure," the motion said.
Marcos also told judges on Friday that she did not receive notice of the promulgation date and learned about her conviction only on television.
The court allowed Marcos to post bail of 150,000 pesos (2,884 dollars). She walked out of the court hours later, as dozens of protesters calling for her arrest rallied outside.