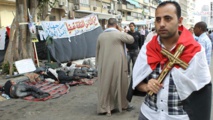 "The celebration of Coptic Christmas in the cathedral in Egypt's new capital, in which President Sissi also took part, is a powerful sign that Christians have their, albeit difficult, place in the countries of the Middle East.
The Egyptian leadership has given the widely visible cathedral a prominent place in the new, partially-occupied capital near Cairo.
In doing so, the leadership emphasizes that Muslims as well as Christians are an essential part of Egyptian national unity.
Under President al-Sissi, the relationship between state authorities and the church has improved considerably. There are still complaints about social discrimination, especially in rural areas."