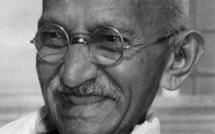 The auction of Gandhi's round, steel-rimmed glasses, as well as a pocket watch, leather sandals, and plate and bowl is scheduled for Thursday at Antiquorum Auctioneers in New York.
Otis -- who has identified himself as the owner, although Antiquorum will not confirm this because of strict anonymity rules -- said he had rejected an initial offer made through India's New York consulate.
"They made an offer I can't disclose, because I don't want to embarrass them: it's that low," Otis said by telephone from Los Angeles.
He also dismissed the relevance of a decision by the Delhi High Court earlier Tuesday that put a stay on the auction.
"They have not stopped it yet, which is why I believe the government has agreed to meet us," Otis said.
India's government vows to do everything possible to prevent the sale of what many Indians consider part of their national heritage. Gandhi's great-grandson slammed what he called a "grave insult."
Otis, a longtime pacifist, said his main wish all along had been to promote Gandhi's non-violent philosophy.
"The point was never to cause anger to India or Indians or anyone over this auction," he said. "We all want the same thing: to support, to promote Gandhi's works."
Otis said he would even give away the memorabilia if India's government did "something positive for the Indian people."
"Nothing would make me happier if the Indian government made a generous offer to help its poor. I would donate these items immediately," he said.
"They've not come back with anything like that other than a very low financial offer. So in that case I'd rather they just come along to the auction."
Neither the consulate nor India's embassy in Washington would comment on negotiations.
Earlier Tuesday, India's tourism and culture minister, Ambika Soni, said the foreign ministry would ask the US State Department to prevent the sale.
"The Ministry of External Affairs is going to take up with the US State Department the issue with the aim of stalling the auction," Soni told the Press Trust of India.
"Whatever is required to bring back those items will be done," she added.
Antiquorum has put an estimated price of 20,000 to 30,000 dollars (16,000 to 23,000 euros) on the rare items, but expects considerably higher bids.
Antiquorum auctioneer Julien Schaerer said the items were being sold legally and that their auction would actually make them more available than they had been previously to the public.
In India "they feel those objects belong to the people, but in my mind the point is that these objects were in a private collection and not available to the public," he told AFP.
"If a private buyer wants to donate it or loan it to a museum, we'd be the first to be happy."
The owner of the Gandhi items was long a mystery. Otis said he had decided to reveal himself because of what he said was "misinformation" about the controversy.
However, Antiquorum says it cannot confirm or deny the owner's identity.
---------------------------------------------
Image of Gandhi from Telegraph.co.uk.