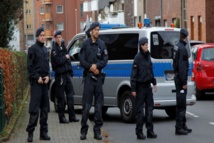 Stephan E, who was detained on June 15, stands accused of gunning down Luebcke, 65, on the terrace of his home near Kassel on June 2. His full family name is being withheld in line with German privacy laws.
A new warrant was required after federal agents took over the murder investigation on the grounds that it was politically motivated. The first warrant was issued by the local court in Kassel in mid-June.
The 45-year-old accused was brought to the Karlsruhe court by helicopter before appearing.
Stephan E has previous convictions and had come under investigation by the domestic intelligence services for his political activities, but over recent years he had dropped off their radar.
Luebcke, a supporter of Chancellor Angela Merkel's refugee polices, had been the target of threats for his pro-refugee attitudes.