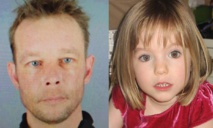 The debate will examine whether prosecutors in the town of Flensburg made a mistake that resulted in the suspect being temporarily freed from jail for around four weeks in 2018.
The state's committee for interior and legal affairs will question regional Justice Minister Claus Christian Claussen and public prosecutors about any potential error.
Questions have been raised about a missed legal deadline which may have allowed the suspect, who at the time was serving a sentence for child abuse in another case, to be briefly released from custody.
Last week, German prosecutors said they were investigating the 43-year-old in connection with the suspected murder of Madeleine McCann, the British girl who went missing while on holiday in Portugal with her parents in 2007.
The man is currently serving a prison sentence in the northern city of Kiel for a separate drug offence.