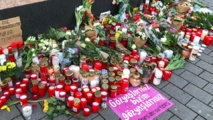 "Hatred has once again, and much too frequently, claimed lives," the president of the Bundesrat, Dietmar Woidke, said.
"It will be our joint duty to prevent this in future and to stand alongside the victims' relatives with all our strength," he added.
A 43-year-old German is thought to have shot and killed nine people of foreign origin on the evening of February 19. The man subsequently returned to his home to shoot his mother and then himself.
Investigators have uncovered evidence that the man had racist motivation and showed signs of severe psychological illness.
Woidke, premier of the eastern state of Brandenburg, said that the terrorist threat from the right of the political spectrum had been underestimated for too long. Germany should learn from its history, he said in reference to Adolf Hitler's Nazi regime.