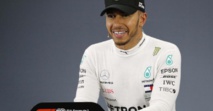 Starting on pole position and looking to equal Michael Schumacher's record 91 race wins, the Briton was given a 10-second penalty for two illegal practice starts.
Before the race Hamilton asked his engineer, Peter Bonnington, if he could practise his start from further down the pit lane than the designated area immediately at the exit.
He got a positive answer from Bonnington, but his actions broke the rules that state practice starts should be done in the designated place.
He also contravened the requirements not to stop in the fast lane and not to use constant throttle and speed in the pit exit according to the BBC.
The collective mistake made by him and his team made things easy for Bottas to hold on to his ninth career win and second this year after the season-opener in Austria.
Over the team radio Hamilton called the penalty ridiculous and he believes that he didn't do anything wrong. "I need to go back and see what the rules are," he said after the race.
"I'm pretty sure no one has got two five-second penalties for something so ridiculous before. I didn't put anyone in danger, I've done this at a million tracks over the years," Hamilton told Sky Sports.
When asked if the penalty was excessive, the Briton accused the stewards of trying to stop him en route to his seventh world title.
"Of course it is [excessive], but it's to be expected," Hamilton said. "They are trying to stop me, aren't they?
"I just need to keep my head down and stay focused. We'll discuss it and try to figure it out. I just need to make sure I don't put myself in that position again."