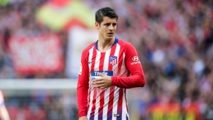 The Turin club said late Tuesday they signed the 27-year-old for one season, paying Atletico 10 million euros (11.7 million dollars). The transfer can then either be extended for one more season at the same conditions, or be made permanent for 45 million euros.
"There's nothing better than returning home. And this is what the arrival of Alvaro Morata in Turin is: coming back home," Juve wrote in a welcome message on their website.
Morata was with the Bianconeri for two seasons, winning the league title and the Italian Cup in 2015 and 2016. He scored 27 goals from 93 games under coach Massimiliano Allegri.
"My two years at Juve were fantastic," Morata was quoted as saying on the club's Twitter account. "I was just a lad when I arrived and I was a real footballer when I left."
After the Turin term, he returned to Real Madrid, where he won twice the Champions League and as many times the domestic title. His following stints were at Chelsea and Atletico.
He has 33 appearances and 17 goals with the Spainish national team, where ha has not been called up since last November.
In his first year for Juventus he played with Andrea Pirlo, who is now the Bianconeri's boss and started his coaching career on Sunday as Juve opened the chase of a 10th straight title by beating Sampdoria 3-0.
Beside the Juventini he left four years ago, Morata will again be with his former Real Madrid team-mates Cristiano Ronaldo and Danilo.