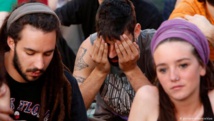 There are now over 513,000 people, a fifth of the workforce, receiving a form of social welfare, according to the March figures from the government's Central Statistics Office (CSO).
The latest exchequer figures also show a big fall in tax receipts in March due to Covid-19, 1 billion euros (1.08 billion dollars) down on March last year.
The government collected 12.9 billion euros in tax in the first quarter, 788 million euros below what the department forecast for 2020.
VAT was "sharply under profile as a result of the response to Covid-19," with receipts 986 million below what was forecast, according to the department of finance.
Finance Minister Paschal Donohoe said that the country's "first priority has to be our citizens' safety" and that the country would only be able to rebuild the economy when the public health situation allows for it.
"We will create an economy in which income and jobs will grow again," said Minister Donohoe, speaking in Dublin on Thursday.
"What we're doing is recognising the scale of economic impact, the speed at which it has happened and the cost to families, individuals," he said.