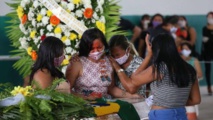 The pandemic caused recession of "unprecedented magnitude and duration" in the region, which is the most affected in terms of hours worked and labour income, according to the report.
The International Monetary Fund estimates a contraction of 9.4 per cent in regional GDP in 2020, the ILO pointed out.
In nine countries representing 80 per cent of total employment in the region, 34 million workers lost their jobs in the first half of the year, according to the report.
During the first three quarters of 2020, hours worked dropped by 20.9 per cent, while labour income declined by 19.3 per cent.
Job loss has been more intense among self-employed workers than among wage earners, and deeper among informal than formal workers, the ILO said.
"Considering that the most affected workers are located mostly at the bottom of the distribution, this will result in increases in the levels of inequality in the region," it added.
In Argentina, about 40.9 per cent of the population now live below the poverty line, up 5.5 percentage points from the first half of 2019, according to official statistics published on Wednesday.
The Americas region is one of the most affected by the pandemic. It has confirmed more than 16.4 million coronavirus infections and over 550,000 deaths, the Pan American Health Organization said on Wednesday.