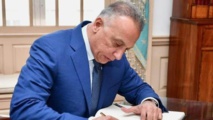 Al-Kadhimi stressed that attacks against foreign diplomatic missions aim at destabilizing Iraq and damaging its regional and international relations, according to a statement from his office.
Attacks have also targeted citizens including children. The state's security agencies are determined to put an end to these attacks, he added.
Al-Kadhimi met with envoys of 25 countries including the United States, Germany, Britain, the European Union and several of Iraq's Middle Eastern neighbours, according to a statement posted by British Ambassador to Iraq Stephen Hickey on Twitter.
"We expressed our deep concern at the rise in the number and sophistication of attacks against diplomatic premises in Iraq," the statement read.
Attacks targeting the green zone, where embassies and government buildings are located, Baghdad's airport and military bases hosting US-led forces fighting the Islamic State extremist group have become frequent in recent months amid tensions between Iraq and the US.
On Monday, a rocket attack targeting the airport hit a nearby house, killing at least five civilians.