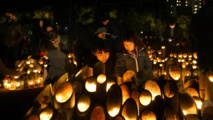 At Higashi-Yuenchi Park in Kobe, about 5,000 bamboo lanterns were placed to commemorate the victims. The lanterns were aligned to form the numbers "1.17," the date of the quake.
Yoshihiro Ueno, the owner of a local sushi restaurant, lost his 47-year-old mother Michiko, when their house collapsed in the tremor, he said at a memorial ceremony at the park.
"I'm now 47, the age you died. I will finally surpass your age. Every one of my family members will make each day count. So, please watch us from a distance," said Ueno, a representative of the bereaved families, according to broadcaster NHK.
Crown Prince Fumihito and Crown Princess Kiko attended the event.
The quake and ensuing fire killed a total of 6,434 people, the biggest single loss of life in Japan's post-war era until the 2011 earthquake and tsunami in the north-east, which left about 18,500 dead.
Many of the deaths in the Kobe quake were blamed on the failure to contain the fire sooner.
About 7,000 houses were destroyed by the blaze, according to a local government report. The disaster caused some 10 trillion yen (91 billion dollars) in damage, according to government estimates.
As the government's slow and inefficient response frustrated many in the aftermath of the quake, many citizens flocked to disaster-stricken areas to engage in volunteer activities even though the term "volunteer" was then unfamiliar to most Japanese.